As someone who grew up watching Selena Gomez from her Barney and Friends to Wizards of Waverly Place days, I never thought I'd see her in a murder mystery along side comedy legends Steven Martin and Martin Short.
But. It. Works.
Hulu's original comedy series, Only Murders in the Building, follows Mabel (Selena Gomez), a woman living in the Upper West Side apartment building – The Arconia. When a resident is found dead, everyone is forced out, where she comes across fellow true-crime lovers, Oliver (Martin Short) and Charles (Steven Martin). From there, they set out to find out who killed Tim Kono.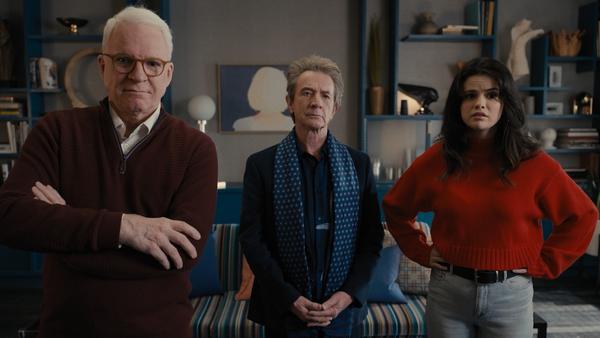 While this trio struggles to learn anything helpful about the dead man, we find that Mabel, Oliver, and Charles may have some secrets of their own.
Oliver relives his Broadway glory days in his head while he holds onto the floor 12 apartment he can't afford. Although he had a wife and son, he now rooms with his dog. If only he could start something amazing, he'd be back in business.
Charles is a washed up actor and lives alone in his floor 14 apartment. Each morning he makes an omelet, then throws it away. He doesn't want to end up like his father. There is a lot to Charles, but it can be hard to tell if he's being genuine or playing a character.
And then there's Mabel. She lives in a floor 10 apartment belonging to her aunt. She tries not to get attached to people and expresses her feelings through drawing.
But the most interesting part about Mabel is that she has a dark past. She knows more about Tim Kono then she lets on. Not only did she know Tim Kono, but she probably knew him better than anyone in the building.
Maybe even loved him.
And how does Sting fit into all of this?
Watch the first three episodes on Hulu now. The next episode is set to premier Tuesday, September 7th.